I am enjoying a fulfilling university life in the Acoustic Design Course, the only one of its kind at a university in Japan where I can study acoustics professionally
K.T
Acoustic Design Course(Undergraduate)
Graduated from Shuyukan High School/
Related department, course
Acoustic Design Course (Undergraduate)
The reason why I chose the School of Design
When I was a junior high school student, I became interested in acoustics after learning about the profession of PA engineer. When choosing a course, I wanted to learn about "sound" from various perspectives and conduct research using that knowledge, so I chose the School of Design, which is the only school in Japan that offers specialized education and research in acoustics. In addition, when I visited the open campus, I learned about the wide range of research and the types of the career path of the graduates, which was also the main factor in my choice.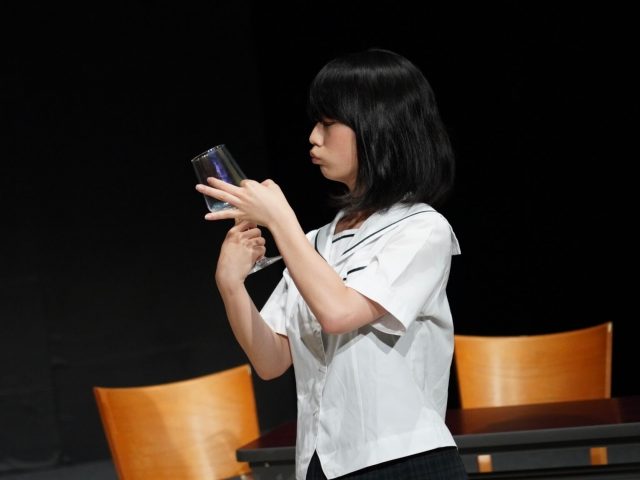 My most memorable class
The "Design Case Studies I" class that I took in the summer semester of my first year. In this class, we heard about university life and current occupations from graduates of various departments and courses who are active in a wide range of professions. Through this lecture, I was not only able to have a concrete outlook on my university life, but I was also happy to learn how the "design" that I am going to study is applied in various areas of society. I would like to make use of what I have learned in this lecture in my university life.
My student life
In terms of club activities, I belong to the Kyushu University Ohashi Campus Drama Club, where I enjoy performing not only as an actor but also as a backstage crew. Also, one of the characteristics of Geiko's clubs is that there are clubs that help the backstage, such as sound and lighting. I am a member of TRP, a backstage crew for the sound club, and I am learning a lot outside of class.
Outside of the club, I organized a concert with my classmates where we brought videos of each other's music creations and performances and watched them online. It's so much fun to be in an environment where we can share each other's hobbies, and every day is fulfilling!
Message to prospective students
There will be times when you may have vague ideas or doubts about university life and the university, and you may also have a lot of anxiety and hesitation. At such times, participating in events held at the School of Design, such as the Open Campus, the Geiko Festival, and the open lectures for high school students, may help you to see things a little more clearly. In order to make the four years that seem long but are short, I recommend that you take the opportunity to actually get to know the university with your own eyes.
I look forward to seeing you at the Ohashi Campus, and the Ito Campus, which you will attend as a freshman. It is also a great place!