Club Activities
We have many unique sports and cultural clubs which provide a wide variety of activities that enrich the student life. Club activities are mainly held in Ohashi Campus.
KIDW
KIDW pursues entertainment through the ultimate journey of laughter and tears—the medium of professional wrestling. In addition to working on technique, we push the limits of wrestling to create our own unique rings, videos, and more, performing twice a year for crowds of more than 300.
Basketball Club
The Basketball Club has fun, laid-back practices in the gymnasium at Ohashi Campus. All skill and ability levels are welcome. Please come and play with us.
Badminton Club
The Badminton Club focuses first and foremost on improving technique. The club also values interpersonal relationships, and members have fun sweating it out on the court together. It is a vibrant and active club with more than 60 members.
Volleyball Club
The Volleyball Club is a small group that plays hard. The club has fun and works hard, playing 2's beach volleyball in addition to practice games and joint training with other university clubs, teams from other universities, and adult volleyball teams.
KID-RFC Rugby Club
The KID-RFC Rugby Club plays a sport called beach rugby, which is a mix of rugby and American football played on the beach. The club practices on the athletic field on Tuesdays and Fridays, and on the beach on Sundays. In the 2018 season, the club won its first-ever national championship. We look forward to welcoming you to the world of beach rugby.
Facebook

arrow_outward
De-Signal Futsal Club
The De-Signal Futsal Club practices in the gymnasium every Thursday at 18:30. Weather permitting, we also play soccer on the outdoor field.
Shu-kyu Sekkei Soccer Club
The Shu-kyu Sekkei Soccer Club was established in 2005. In 2007, it merged with the School of Design Soccer Club to create one united soccer club for the entire school. Since the club shares the field with De-Signal Futsal Club, training takes place on the outdoor field on Thursday when there is no De-Signal practice.
Plan-o-blast (dance club)
Plan-o-blast is a dance club that covers all genres, including breakdance, rock, girls, and more. The club practices after class on Wednesdays and Fridays.
Twitter

arrow_outward
Geiko Meikyu-kai (Rubber Ball Baseball Club)
Geiko Meikyu-kai, the Rubber Ball Baseball Club, regularly holds practice where members, regardless of skill level, have fun training for tournaments that are held three times a year.
Shou-mei-ya (Behind-the-scenes student club)
Shou-mei-ya is a behind-the-scenes student club in charge of lighting that handles a wide range of requests from both inside and outside the university.
The TRP (Tape Report Play)
The TRP (Tape Report Play) club oversees and records PAs (public addresses) both inside and outside the university, and handles recordings in the campus studio during school holidays. Students in this club have access to a range of professional-grade equipment.
Kyushu University School of Design Philharmonic Orchestra
The Kyushu University School of Design Philharmonic Orchestra has a cozy, at-home atmosphere. The orchestra regularly holds concerts both inside and outside the school and performs at university functions. Rehearsals take place at Ohashi Campus. Welcoming beginners and advanced players alike, the orchestra is a place where everyone works together to make music in happy harmony. We hope you'll join us. ♪
Website(Japanese)

arrow_outward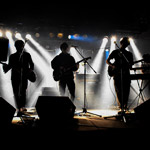 K-ON
K-ON plays music spanning all genres, focusing on five annual performances, four at the university and one in public.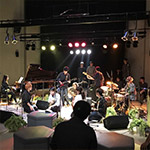 JAZZ Sukimono-kai
JAZZ Sukimono-kai plays music across a range of genres including jazz, funk, bossa nova, and latin. The club focuses on rehearsing two to three times a month, performing three to four times a year, and holding club activities and trips.
Folk Song Club
The Folk Song Club performs live on campus twice a year. The club is open to anyone interested in folk songs. We hope you'll join us.
Theater Department
The Theater Department holds regular practices for performances that are held twice a year. The club creates everything for its performances, including video, lighting, sound effects, costumes and props, stage design, and even PR materials. Theater beginners and aspiring actors welcome!
Website(Japanese)

arrow_outward
SOLA (video production club)
SOLA is a video production club that produces video for various events held on campus. On occasion the club sets up large screens and hangs projectors from the ceiling. The club also sometimes creates visuals for K-ON band performances. If you are interested in live performances and on-stage visuals, we welcome to join us.
Twitter

arrow_outward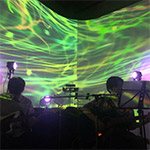 Namaoto-bu
Namaoto-bu is a club for people who like music to get together when and where they like. We usually play acoustic instruments, but any kind of instrument is okay. The club is a truly free gathering of a diverse range of both groups and solo musicians, including brass bands, guitar ensembles, and Electone players. Club activity focuses on performing live on campus several times a year.
Rec-lab.
Rec-lab. is a videography club. The club is in charge of filming events on campus, including live performances, concerts, and theater productions. The club uses a professional setup, filming with three cameras and editing in real time. In some cases, we will use a computer to perform non-linear editing. This club gives students a chance to learn about live concert video editing, which differs from other types of video production.
Twitter

arrow_outward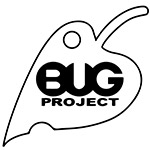 BUG PROJECT (Live-action video production club)
BUG PROJECT is a live-action video production club. The club is laid back, fun place where students can make videos. Whether you like movies or cameras, or are interested in taking live-action video, we look forward to having you join our club.
YouTube

arrow_outward
Twitter

arrow_outward
ANIMA Production (Multidisciplinary video club)
ANIMA Production is a multidisciplinary video club that produces 2D animations, 3D computer graphics, pixilation stop-motion films, live action videos, and more.
Twitter

arrow_outward
impression! (Interactive art club)
impression! is a club that produces interactive art, with a focus on video games. Members can have fun working together with fellow programmers, music composers, and graphic artists. We are also working with the Qpic club at Ito Campus to expand the scope of our activities.
KUDOSA
KUDOSA (Kyushu University Design Department Oversea Student Association) provides support and organizes activities for international students at Kyushu University's Ohashi Campus. The club aims to help international students have fun and meaningful experiences during their time in Japan.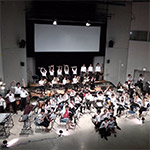 Brass Band club
The Brass Band club is based at Ohashi Campus. In addition to the annual concerts held in March and July, the club regularly creates opportunities for members to become more familiar with brass band music both inside and outside of the club. Rehearsals are every Tuesday, and members are welcome to participate in other clubs as well! We hope you'll join us.
Twitter

arrow_outward
Instagram

arrow_outward
Omotesenke Tea Ceremony club
The Omotesenke Tea Ceremony club meets once a week at Daichoji Temple in Maizuru.
Twitter

arrow_outward
Qmns (Kumonosu) (Web production club)
Qmns (Kumonosu) is a web production club. Students mainly learn about web production through study sessions and then try to apply their skills through a variety of hands-on activities.
Pelanche Poloncho
At Pelanche Poloncho, anything goes. This fun and unique club is dedicated to "exploratory, experimental, and emotional entertainment."
3DD club
The 3DD club was established to improve 3D modeling technology and creating more opportunities for its use, and mainly does 3D printing using Fusion360. The club is active in promoting digital fabrication by holding seminars to improve modeling skills, exhibiting work at flea markets, entering contests, and holding public events.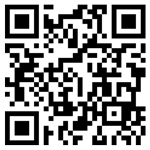 Ohashi Film Circle
We hold a movie screening twice a week. Sometimes, we produce independent film, but it's not the main activities.
MAKE
"MAKE" is a club that "creators" gather and exchange information on hobbies, issues, competitions, etc. every Thursday. We also exhibit at production events. Production is overwhelmingly more efficient to ask someone than to do it yourself. Joinus!
Geiko-Sai (Design Festival)
The Geiko-Sai (Design Festival) is completely handmade from the ground up. As only the School of Design could do, the festival develops new, unconventional forms of entertainment that includes live events, fashion shows, installations, and idol performances.
ZENYA

The ZENYA project creates a morale-boosting event for the eve of the Geiko-Sai that gets everyone involved excited for the following day's festivities. ZENYA delivers a live performance where every element is created by hand—from the stage and the performers to everything that happens behind the scenes. *Pre-festival events like ZENYA are student events and general visitors may not be allowed to enter. Thank you for your understanding.
3ken-funsui project

The 3ken-funsui project creates a performance that is designed around the fountain at Ohashi Campus using video, sound, and stage design.
5ken

5ken is an official project organized by the Geiko-sai planning committee. On the day of the Geiko-Sai, 5ken holds a number of events, including live performances, workshops, and exhibitions that introduce the School of Design. 5ken also sells official goods for the Geiko-Sai and oversees the festival's official mascot Geiko-chan.
Panf

Panf is responsible for creating the flyers that are handed out during the Geiko-Sai. In addition to introducing each of the exciting events planned for the Geiko-Sai, Panf fills the other pages with their own original content, which always makes for a fun read.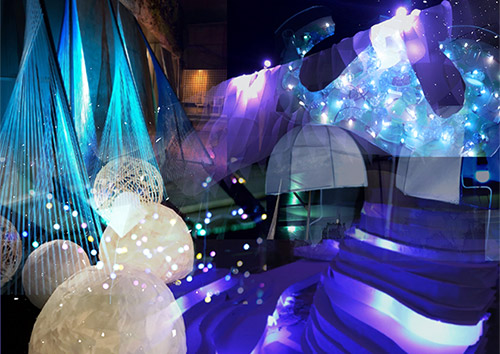 2ken

2ken provides the festival with interactive events that they call "installations." By combining stage settings, art exhibitions, lighting, video, and sound, 2ken creates a creative space based around a single theme.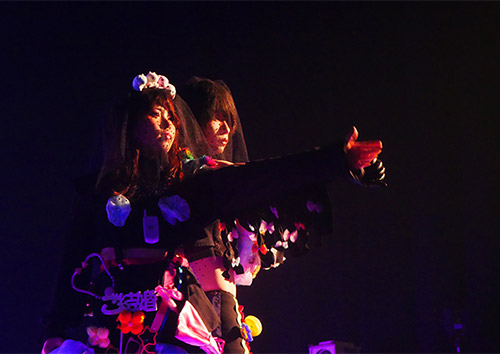 CBA

The CBA project organizes a fashion show that students create by hand, doing everything from stage design and costumes to music and video. CBA thinks outside the box to create new kinds of entertainment that will thrill and excite the audience.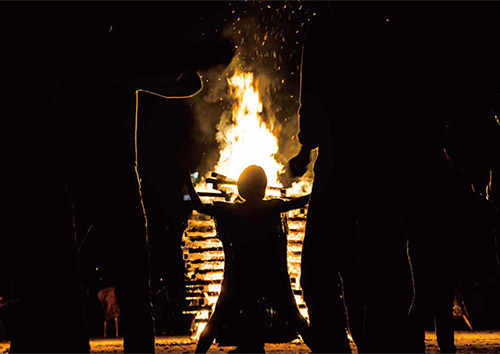 Himatsuri (fire festival)

The Himatsuri (fire festival) is held on the last night of the Geiko-Sai. In the middle of the athletic field, festival staff dance together with members of the local community. We plan to continue developing this creativity of this event while respecting its tradition, which has continued since the time of the former Kyushu Institute of Design.