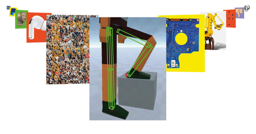 "A Wave," a work by The SINE WAVE ORCHESTRA (FURUDATE Ken, JO Kazuhiro, ISHIDA Daisuke, NOGUCHI Mizuki), a project in which
Associate Professor JO Kazuhiro (Faculty of Design, Kyushu University)
is a core member, will be exhibited at POCHEN Biennale 2022 – The (New) Measuring of the World, which will be held from September 29 to October 8, 2022 in Chemnitz, Germany.
 The third edition of the Pochen Biennale, titled "The (New) Measurement of the World," will present works by 23 artists that question the notion of digitalization, which many of us automatically associate with without knowing how to understand them. questions the notion of digitization.
 This work was commissioned by the Yamaguchi Center for Arts and Media [YCAM] in 2017 (
Exhibition "Vanishing Mesh"
).