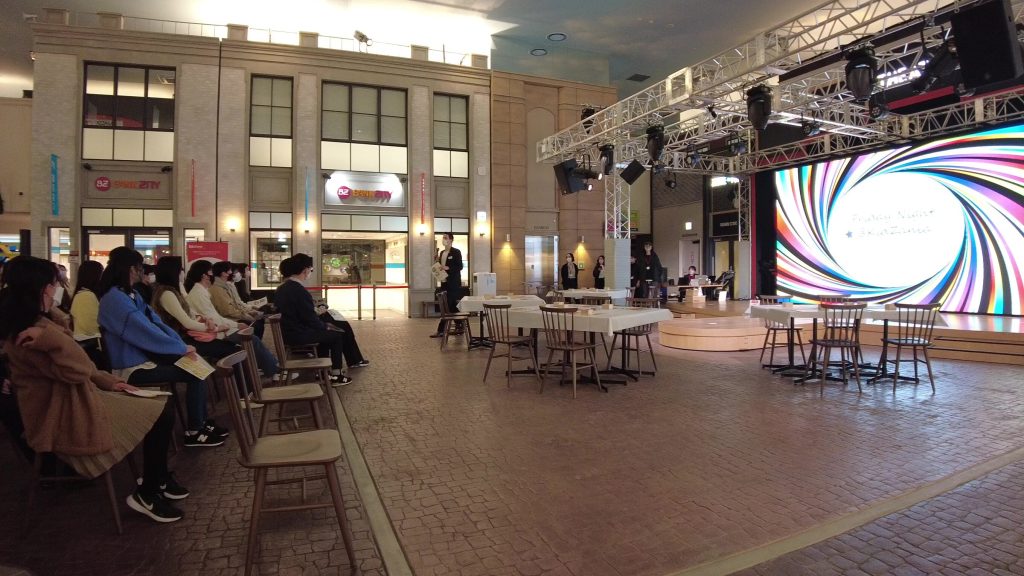 This program was a joint class in the second semester of 2022 with KidZania Fukuoka. It was the 'Studio Project' of the Graduate School of Design and the ' Transdisciplinary Project' of the School of Design of Kyushu University. Students designed a hands-on event for high school and university students to learn about working globally in the future. The subjects were conducted in English.

Students designed an international event while learning about KidZania's unique content production methods and prototyping fieldwork and experiences at KidZania Fukuoka.

There were 23 students, of which 7 were undergraduates, 15 were graduates, and 1 was a research student. They are from Japan, Germany, Brazil, Indonesia, Iran, and China. The diverse group of students from different grades and nationalities worked in teams to design the following four activities.

A Journey of Self-Discovery
Participants can take a personality test in the form of quizzes and experience VR at stations scattered throughout the venue. At the end of the journey, they would be able to find a suitable occupation based on the results of their personality test.

SCM Game
The students designed an original card game to experience the work of supply chain management. Participants can learn about the companies and materials involved in the process of making a single product while playing the card game.

We♡Food
Participants can interact with ambassadors from four countries (Japan, Indonesia, Brazil, and Germany) to learn about the situation of food loss in each country and propose solutions to the problem.

Infinity Room for Self-reflection
Students have designed a space and experience for participants to relax, reflect and look to the future in a starry infinity room. They can also take home their personalized postcard as a souvenir.

At the end of the class, the content created by the students was implemented at KidZania Fukuoka as an event open to the public. On the day of the event, 57 participants, who were students from high schools and universities, visited each booth and enjoyed the event. The participants commented, "B to B sounds difficult when you just look at the words, but it was so much fun to learn through games, and I thought it was perfect for the KidZania concept of learning while having fun." Also, "It was a good opportunity to learn about what I am suited for!" He enjoyed thinking about his future career.

Date and Time: January 23, 2023 (Friday), 17:00 – 21:00
Venue: KidZania Fukuoka
Co-organised by the Graduate School of Design, Kyushu University, and the Business Development Department of KCJGROUP Ltd.