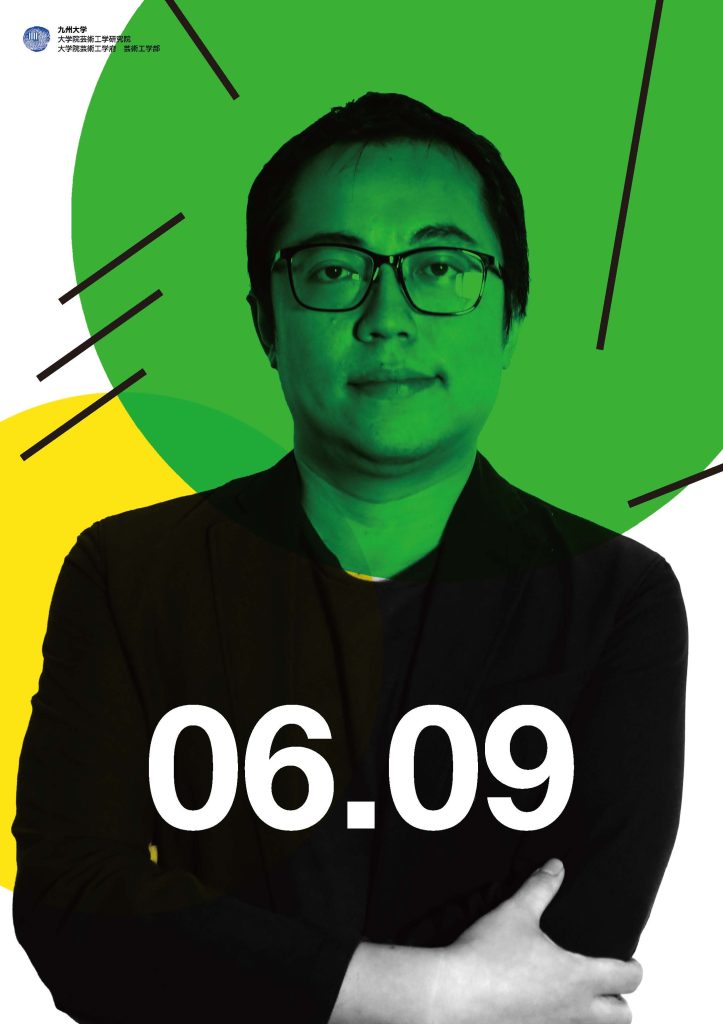 On the occasion of the exhibition "There is Another Capital Beneath the Waves" by Chia-Wei Hsu, Ting-Tong Chang and Hsien-Yu Cheng at the Yamaguchi Center for Arts and Media (YCAM) (June 3rd to September 3rd), Taipei-based artist Chia-Wei Hsu will screen a selection of his works, followed by a Q&A in English.

Chia-Wei Hsu is mostly working with film, video and installation. He often combines historical context with mythological themes and contemporary technologies, such as green screens, camera drones, computer animations and various other imaging technologies. Hsu also often includes traditional forms of performing arts in his moving image work, for example Thai puppet theatre, Noh theatre, Manzai stand-up comedy, as well as religious or indigenous rituals.

Starting point for Hsu's work is often a particular site or location of a side-line of history that can be linked to Taiwan's complex historical relations with its neighboring countries. Hsu has worked on the effects of the Cold War era in Asia and on the Japanese colonial period. For their new project for YCAM, Hsu, Chang and Cheng refer to the industrial sugar production in Taiwan during the Japanese rule.

In this talk, Hsu will screen several of his video and film works that represent his explorative and experimental approach to working with moving images. A variety of subjects are addressed in these works, such as: traces of the Chinese Civil War in the north of Thailand, a former Japanese naval fuel plant in Taiwan, Minecraft, panda-diplomacy, and an encounter between archeology, music and art. Most of these works have subtitles in English and Japanese. The screening will be followed by a Q&A in English.


---

Date: June 9th, 2023
Time: 18.30-20:30
Venue: Design Commons, Ohashi Campus, Kyushu University, 4-9-1 Shiobaru, Minamiku, Fukuoka, 815-8540
Fee (admission fee): Free
Language: Screening with English and Japanese subtitles/ Talk and Q&A in English
Organizer: Faculty of Design, Kyushu University
Support: Center for Design Fundamentals Research, Faculty of Design, Kyushu University

Chia-Wei HSU (*1983 in Taichung, Taiwan, based in Taipei, Taiwan), studied at Graduate School of Plastic Art, National Taiwan University of Arts, and Le Fresnoy – Studio national des arts contemporains, France. Recent solo-exhibitions include: Tung Chung Art Award: Giant Panda, Deer, Malayan Tapir and East India Company, MoNTUE, Museum of National Taipei University of Education (2019, Taiwan), MAM Screen 009: Hsu Chia-Wei, Mori Art Museum (2018; Tokyo, Japan). Recent group exhibitions include: Busan Biennial (2022; South Korea), Aichi Triennale (2022; Japan), Asia Pacific Triennale (2021; Australia), Singapore Biennale (2019), the Biennials of Shanghai, Gwangju, Busan and Sydney (2018), and 2 or 3 Tigers at Haus der Kulturen der Welt (2017; Berlin, Germany). Hsu also plays an indispensable role in the Asian art scene as a curator. For example, he served as the curator for the Asian Art Biennial at National Taiwan Museum of Fine Arts (2019; Taichung, Taiwan). From 2011-2013 he was the director of Open-Contemporary Art Center (OCAC) in Taipei.