A dependable partner to architects
TSUTSUMI Keisuke
MHS Planners, Architects and Engineers Architectural Design Department
2010 Graduated from Environmental Design, School of Design
2012 Completed the Master's Program at the Department of Design Strategy, Graduate School of Design
Kumamoto Prefectural Seiseikou Senior High School
MHS Planners, Architects & Engineers
Architectural design department
Related department, course
Environmental Design Course(Undergraduate)

Environmental Design Course(Graduate)

Department of Environmental Design

Department of Design Strategy
My current job
I belong to the organization's architectural design office, and mainly design large-scale buildings such as office buildings and schools. My job is to create architectural design drawings while meeting extensively with the client. In my 7th year after joining the company, the first project for which I was responsible for from design to completion, a school building, was completed. I cannot forget the happy faces of the students when they entered the school building I had designed for the first time.
How I spent my student life
I belonged to a fashion show group called Geiko-sai (Design Festival) CBA, and when I was in my third undergraduate year, I worked as the stage design team leader. I feel that the experience and pleasure of designing and creating the stage together with my friends, seniors and juniors has led to my work today. In the laboratory, I studied architectural planning and researched new spaces such as school buildings and childcare facilities and how they were used. In addition, in my practical work, I have conducted various research activities such as school and nursery design and community development workshops.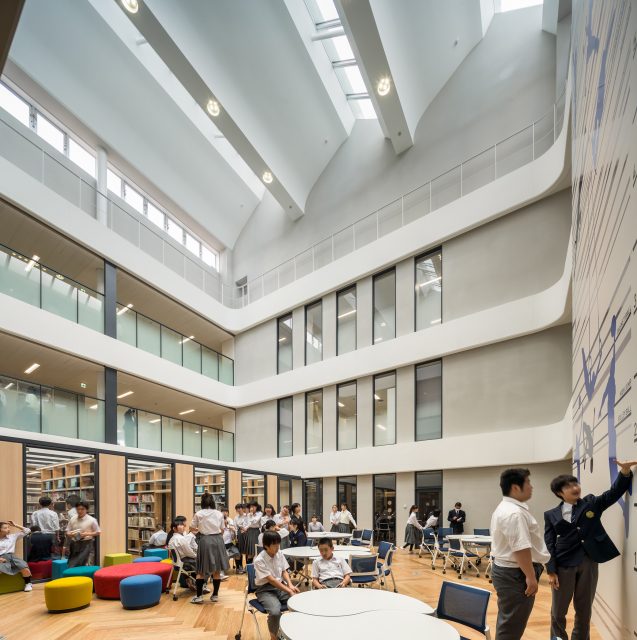 Message for prospective students
Artistic Engineering is a discipline that contributes to society through design. In the architectural field, you can contribute to society through architectural design while engaging in various other fields such as economics, education, healthcare and entertainment. While studying design, enjoy coming into contact with various other subjects.