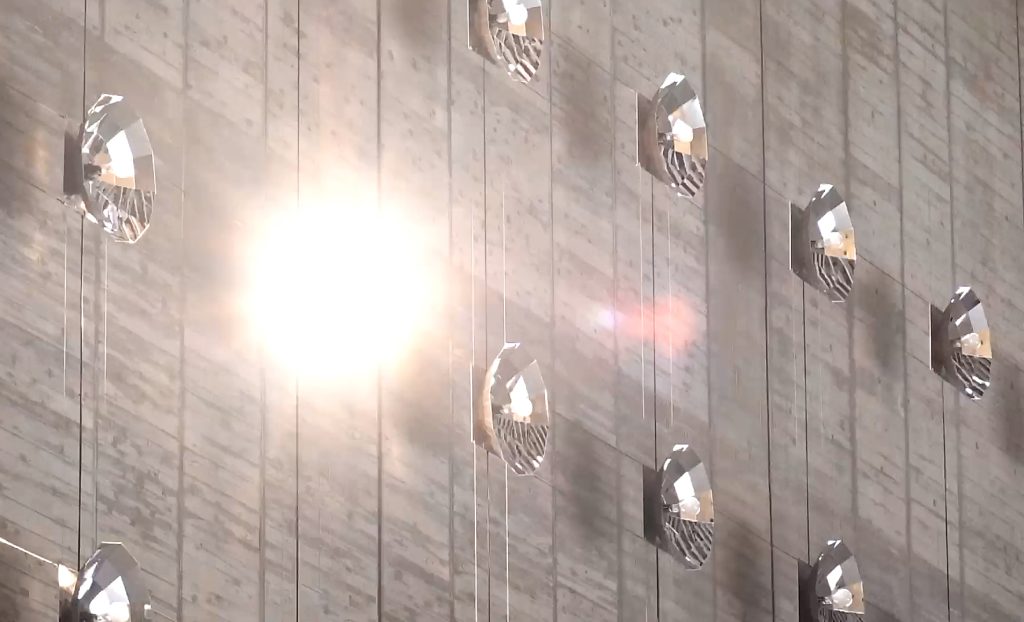 Exhibition (Shiiki Auditorium Galleria, Ito Campus)] Hitoshi Kuriyama 《0=1 -Discontinuous Continuity》
Associate Professor Hitoshi Kuriyama
will exhibit his installation work as an event related to the 12th Global Young Academy Annual Meeting and Conference at Kyushu University's Ito Campus.
Exhibited works: Hitoshi Kuriyama
Hitoshi Kuriyama "0=1 -Discontinuous Continuity" (2022)
A large wall approximately 17 meters high and 30 meters wide is covered with 99 flashbulbs. Flashbulbs were used in old photographic flashes, which emit a strong light when the chemicals and metal inside burn out, but they emit light only once. This one-time luminescence phenomenon is repeated at irregular intervals. This work is inspired by the stars in the universe that are born and disappear, suggesting that this world is a series of discontinuities through the repeated disappearance and creation of the one and only.
*Please view this work in conjunction with "One Year Clock of Plants" by Professor Mikako Tomotari, which was created for the same conference.
*Associate Professor Kuriyama's solo exhibition is also being held at the adjacent Fujii Gallery. Please take this opportunity to visit the exhibition.
Venue: Shiiki Auditorium Galleria, Ito Campus, Kyushu University
Lighting schedule:
 Tuesday, June 14, 17:00-20:00 (3 hours)
 June 16 (Thursday) 13:00-16:00 (3 hours)
Cooperation:
Faculty of Engineering, Faculty of Design, The Kyushu University Museum