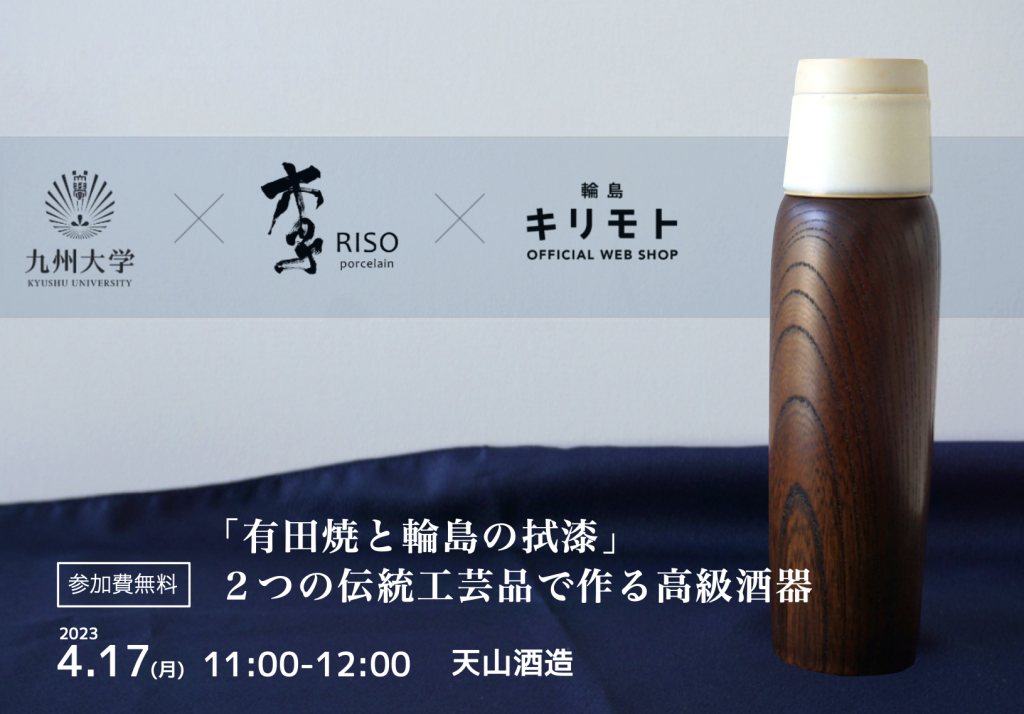 Together with creators from Arita-cho, Saga and Wajima-shi, Ishikawa, students of the Graduate School of Design—who are tackling social issues through design— fashioned a bottle that allows one to enjoy "Japanese sake" anywhere. The design incorporates a traditional Arita Ware kiln "RISO porcelain" cup and a sake bottle made by "Wajima Kirimoto" who has been involved in wood and lacquer work for over 200 years. This luxury drink set dedicated to Japanese sake was released to MAKUAKE; a product launch event was held on April 17, 2023.
 The design of this sake bottle started as an idea for a special class in the Strategic Design course, Graduate School of Design, Kyushu University. This course focuses on design strategies for a viable future—in addition to traditional management work in companies and organizations such as design management and branding. Output from this course contributes to social, economic, and industrial relations, as well as start-up businesses, that work towards a circular economy system expected to be realized in a sustainable society such as the SDGs. This design thus became an industry-academia collaboration that culminated the social implementation of the product in partnership with Sorashi Sakamaki, the head of Blood Enterprise,Inc., a company that aims to revitalize the community through traditional handicrafts.
 The Arita Ware kiln "RISO porcelain" and the Wajima Lacquer Ware workshop "Wajima Kirimoto" are both high-quality traditional craft workshops with long, distinguished histories. In designing a single product, a simple form unifying two traditional two traditional crafts with their respective histories was created. The design was not only visually appealing, but also environmentally friendly, conducted with an eye toward the "upcycling" of materials.
 This product is now available for purchase on MAKUAKE.
---
Launch Event 
▪Date: Monday, April 17, 2023, 10:00~12:00 
▪Venue: Tenzan Sake Brewery
      1520 Iwakura, Ogi-machi, Ogi, Saga 845-0003, Japan
 ▪Event Outline:
This project and its products were introduced. Representatives from "RISO porcelain", "Tenzan Sake Brewery", Fukuoka iBank, and The Mainichi Newspapers Saga Branch Office, "Wajima Kirimoto",and  Uda Pottery Works attended the event.
Please read the article about the event.
 
▪Students in this project: 
Natsuki Hibi (Department of Design Strategy, Graduate School of Design)
Keita Takagi (Graduate of department of Design Strategy, Graduate School of Design)
Haruka Sano (Graduate of department of Design Strategy, Graduate School of Design)
and others