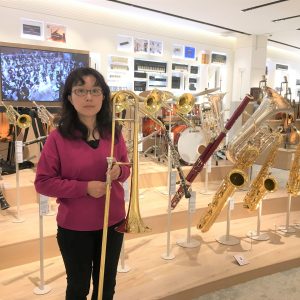 I like brass instruments. With that idea, I chose GEIKO, and I am what I am today.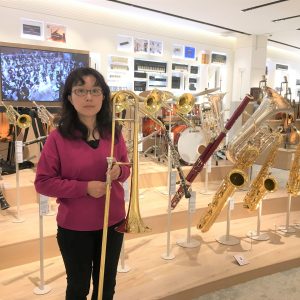 MINAMIYA (MURAYAMA) Eriko
Yamaha Corporation, B&O Development Department B&O Division
2006 Completed the Master's Program at the Division of Audio and Visual Communication Studies, Graduate School of Design
2006 Joined Yamaha Corporation Affiliation: Wind & Educational Instruments Development Group
B&O Development Department B&O Division
Related department, course
Acoustic Design Course(Graduate)

Communication Design Science Course
My current job
We design and develop brass and educational instruments. Aren't the traditional forms of brass instruments already complete? Is there something to design? You might ask. However, in various genres, such as orchestras, brass bands, jazz, etc., the market required for each model and the voice of the musician somewhat differ. I think this is a job for choosing a specific form: "I want to perform like this."
How I spent my student life
I worked on research topics relating to audio signal processing at another university up to my undergraduation. On the other hand, from a background of a fondness for brass instruments that had continued since elementary school, I searched for a graduate school with the desire to research not only sound, but also musical instruments, and so I arrived at GEIKO. It was a stimulating two years with lectures in a variety of specialized fields, with lectures mainly focusing on research into the mouth cavities of brass players, the psychology of people listening to sound and acoustic design for halls.
Message for prospective students
Why not consider carefully what it is you wish to study? Universities are a great place to delve deeper into your own interests. If you have the sprout of a desire to try viewing arts such as music with a scientific eye, there may be many hints hidden at GEIKO.