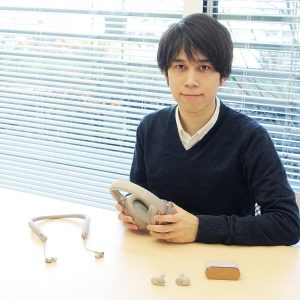 To deliver the best musical experience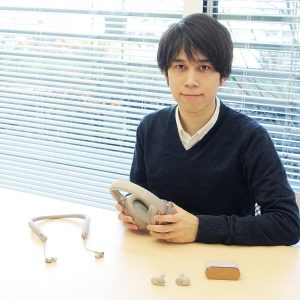 TSUCHIYA Shinpei
Sony Corporation R&D Center Tokyo Laboratory 20
2007 Graduated from the Department of Acoustic Design, School of Design/
2009 Completed the Master's Program at the Department of Design, Graduate School of Design/
2009 Joined Sony Corporation/
Since then, development of audio technology/
Affiliation:Sony Corporation R&D Center Tokyo Laboratory 20/
Related department, course
Acoustic Design Course(Graduate)

Acoustic Design Course(Undergraduate)

Department of Acoustic Design
My current job
I am researching and developing digital noise-canceling technology installed in headphones in order to provide good sound even under noisy conditions. Specifically, I am engaged in a wide range of activities, from the development of basic algorithms for processing sound signals, to the development of dedicated processors and software for practical use in actual products. In order to directly cancel out the noise in one's surroundings in real-time, it is necessary to take an integrated development approach from various aspects of sound, hardware, and software, so research is being conducted every day.
Message for prospective students
It's difficult to decide on a path while thinking about your future career in high school, but whatever you learn, I think it is important to discover what you can get absorbed in and live life in the university. Even after you enter university, there will be times when you might question your path, but I think the Faculty of Design is a place where you can expand your potential while being inspired by your surroundings.