Practicing human-centered design education from various viewpoints
FUMOTO Koichiro
Lecturer, Faculty of Global and Science Studies, Yamaguchi University
2003 Graduated from the Department of Industrial Design, School of Design
2006 Completed the Master's Program at the Department of Design, Graduate School of Design
April 2006 - June 2013: Worked at the R&D department of an office furniture manufacturer
October 2013 - Present: Kyushu University Graduate School of Design, Doctoral Program in Design Strategy (Currently on leave of absence)
April 2015 - present: Lecturer, Faculty of Global and Science Studies, Yamaguchi University
Related department, course
Strategic Design Course(Graduate)

Industrial Design Course(Undergraduate)

Department of Industrial Design

Department of Design Strategy
My current job
After graduating from graduate school, I was engaged in research and development at an office furniture manufacturer. Today, as a university lecturer, I conduct educational and research activities in the specialist field of inclusive design I learned during my student days. I teach design practically, in cooperation with various partners and with a particularly human-centered approach. Moreover, I also work on educational design activities relating to manufacturing for students who are not specializing in the field of design.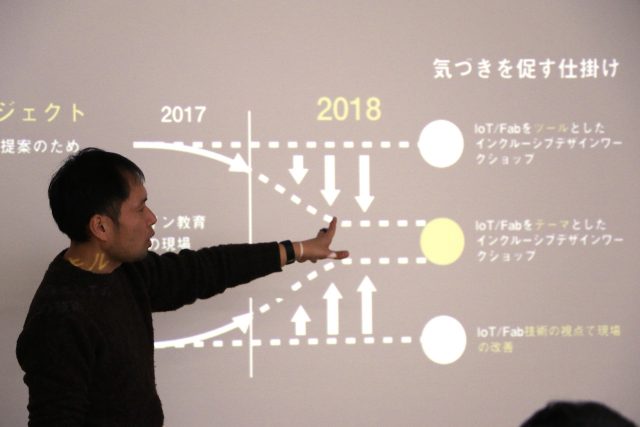 How I spent my student life
When I was an undergraduate, I studied product design focusing mainly on furniture. Thinking about it now, I was always working with my hands. As a class assignment and as a voluntary activity, I have been attending a craft workshop to make things since I was a freshman. I also that think that being constantly stimulated by engaging with my peers and seniors was the driving force behind my activities. In a positive sense, I think I learned design not with being conscientious of "learning," and I think it was an environment in which that was possible.
Message for prospective students
GEIKO has many students with the same aspirations to learn design. The good thing about the School of Design I think is that it provides an environment in which you can shape your own interests. This is not only about classes, facilities and equipment, it is also rooted in culture. To those who wish to try giving their thoughts a concrete form, those who like to work with their hands, and those who wish to create new value through design, why not become a student of GEIKO?