Supporting a high-quality lifestyle from the ground up
TATENO Kenta
ASICS Corporation Performance Running Development Team, Development Department, Performance Running Footwear Division
2015 Graduated from the Department of Industrial Design, School of Design
2017 Completed the Master's Program in the Human Science Course at the Department of Design, Graduate School of Design
(2017.4 - Present) ASICS Corporation Performance Running Development Team, Development Department, Performance Running Footwear Division
Related department, course
Industrial Design Course(Undergraduate)

Human Life Design and Science Course(Graduate)

Human Science Course

Department of Industrial Design
My current job
I am in charge of developing running shoes that are launching globally. With an understanding of market needs, I construct shoe structures that improve performance while preventing injuries. This is a highly rewarding and fulfilling role because it concerns the whole product and not just a part of it, which is unusual among manufacturers. In addition to scientific knowledge, we make things considering their hedonic aspects, including what users say.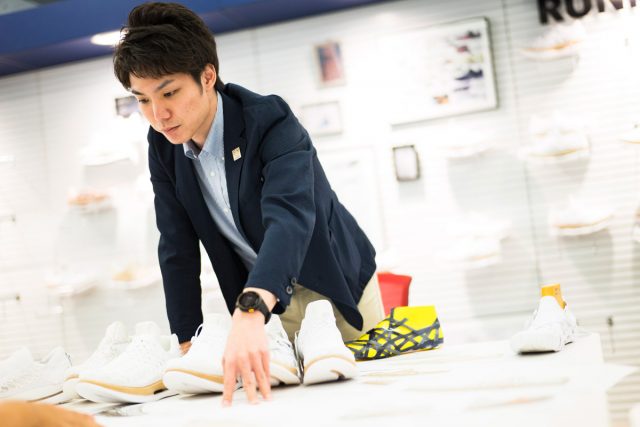 How I spent my student life
I remember my student days as a time of work hard, play hard. Play is most definitely not a negative thing, it means that you're passionate about something outside of classes, and that there are other people to share this with. In our club activities, we came up with a plan called "SHAPE" to create spatial art in two lab projects. I remember being touched at how we completed these works over months, surrounded by unique individuals. There were so many people who were involved in all kinds of things, and it was an environment where you learned a lot outside of class.
Message for prospective students
I think that GEIKO environment is a place that helps broaden life's possibilities. The draw of this school is that you can absorb a great deal of multi-faceted knowledge that you can't get from other departments. I think I was able to get involved in projects with Kengo Kuma in my current workplace precisely because of the industrial design and architectural knowledge I gained during my student days, outside of my major in human factors and ergonomics. Acquiring various perspectives and knowledge will surely be an asset in future. This is a place where you can make that happen.