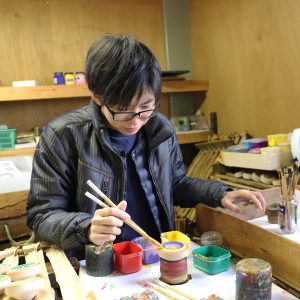 Traditional industry, from planning to manufacturing of goods.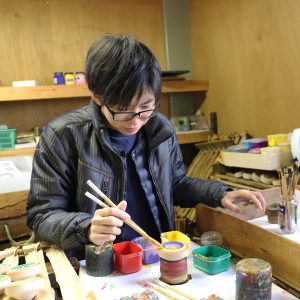 SANADA Kenichi
woodwork KUMAMOTO
2016 Graduated from the Department of Industrial Design, School of Design
2018 Finished the Master's Program at the Department of Design Strategy , Graduate School of Design
2018 - Present woodwork KUMAMOTO, Designer
Related department, course
Strategic Design Course(Graduate)

Industrial Design Course(Undergraduate)

Department of Industrial Design

Department of Design Strategy
My current job
I am in charge of product design at a long-established top shop that makes wooden toys. The company makes the traditional top, which is a prefecture-designated folk craft, and it is so-called a traditional industry. My main job is to plan and design products. However, as the number of people in the company is small, and the most important thing in manufacturing is to make products with our hands. Hence, I also go to the factory to manufacture products.
How I spent my student life
I entered the school with a rough idea that "I would like to think and create my own products!". By the third year, I was mainly taking classes on product planning and design. During this process, I became interested in the process of manufacturing, and what I wanted to do became more concrete: "I want to make things with my hands, not just plan them". When I was a fourth-year student and a graduate student, I started researching the local industry, visiting workshops and listening to the people who made the products.
Messages for prospective students
Before I entered the school, I thought it was all about designing "looks", whether they were cool or beautiful. Of course, you can learn those things. However, there is also a lot to learn about designing the "inside" of things, such as how to decide on targets and concepts. The latter is particularly useful in my current job, which is necessary and useful not only in the manufacturing industry but also in any profession. I hope that you will find your dream while studying at Geiko.